Sceilg Mhichíl Draft Management Plan 2020 – 2030 and Environmental Report Public Consultation
Posted on 2 November 2020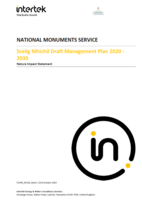 Mr Malcom Noonan, T.D., Minister of State at the Department of Housing, Local Government and Heritage has prepared the draft Sceilg Mhichíl Management Plan 2020 – 2030 for public consultation. In accordance with Article 9(1) of the European Communities (Environmental Assessment of Certain Plans and Programmes) Regulations 2004, Strategic Environmental Assessment (SEA) has been carried out of the draft Sceilg Mhichíl Management Plan 2020 – 2030 and its findings are presented in an Environmental Report. A Natura Impact Statement has also been prepared in accordance with Part 5 of the European Communities (Birds and Natural Habitats) Regulations, 2011.
The consultation period extends from Wednesday 4th November to Wednesday 16th December 2020 and the above consultation documents may be accessed below.
Sceilg Mhichíl is a spectacular early medieval island monastic site. In 1996 it was inscribed on the World Heritage List by UNESCO, the body which selects World Heritage Sites as representing the best international examples of cultural and natural heritage. This listing of Sceilg Mhichíl recognises the universal significance of this cultural landscape and the importance of its protection to the highest international standards.