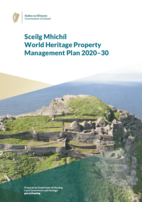 Sceilg Mhichíl World Heritage Property Management Plan, 2020–30
Posted on 17 December 2021
The Sceilg Mhichíl Management Plan 2020–2030 has been prepared by DHLGH in conjunction with the OPW. DHLGH is the state body responsible for heritage-policy matters in Ireland under the World Heritage Convention.
The aim of this plan is to protect and preserve the WHP of Sceilg Mhichíl, also known as Great Skellig.
The accompanying suite of documents relate to the AA and SEA processes associated with the development of the Management Plan.