Call for Applications to Ireland's Tentative List of Properties for Potential Future Nomination
Posted on 14 January 2019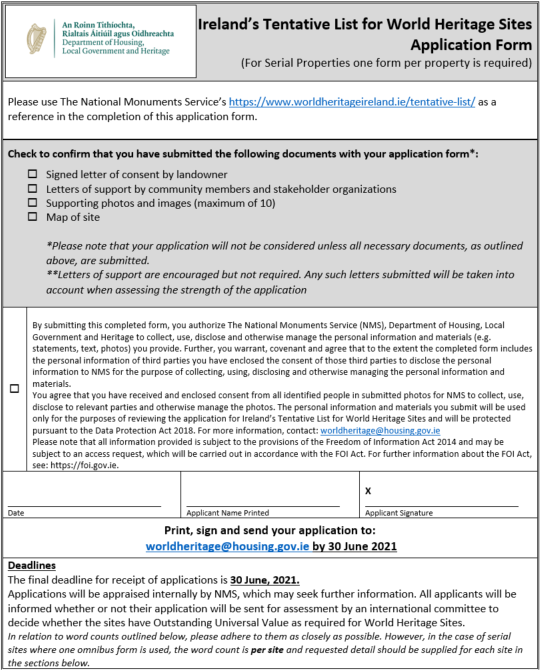 In January 2019, the Minister for Culture, Heritage and the Gaeltacht opened applications for Ireland's Tentative List of properties for potential future nomination to the World Heritage List 2020-2030.
The National Monuments Service (NMS) of the Department oversees the process of Tentative List application and assessment. We are seeking applications from Local Authorities, State Bodies, community organisations and individuals, for sites or properties of natural and/or cultural heritage which are considered to be of outstanding universal value (OUV), for inclusion on the new Tentative List. Each applicant must fill out the application form, explaining why it should be included on the Tentative List, and also provide letters of support from the relevant stakeholders. Applicants should also include supporting photographs and images so that the assessors can gain an insight into the proposed property.
The Department of Housing, Local Government and Heritage acts on behalf of Ireland as a State Party to the World Heritage Convention. It is responsible for the submission of nomination documentation to UNESCO for inclusion of properties on the World Heritage List and for reporting to UNESCO on the state of conservation of our World Heritage properties. No site can be nominated for World Heritage status without first being placed on Ireland's Tentative List. The Department is responsible for deciding which sites should be placed on the Tentative List and for submitting any eventual World Heritage nominations to UNESCO.
There is considerable work and time involved in the preparation of nomination documentation and a management plan for a property including a public consultation process. This stage of the process, together with the public consultation, takes at least two years.
Thereafter the inscription process takes about a year and a half from the submission of the complete nomination document and management plan to consideration by the World Heritage Committee. Within this period of time, the Advisory Bodies to the Committee — ICOMOS (the International Council on Monuments and Sites) and IUCN (the International Union for Conservation of Nature) – will assess the nominated property to see if it meets the requirements for inscription on the World Heritage List and make their report to the Committee.
Copies of the application form are now available below. A form may also be obtained by writing to the National Monuments Service, Department of Housing, Local Government and Heritage, Custom House, Dublin D01 W6X0, by telephone at number 01-8882178 or by emailing worldheritage@housing.gov.ie
The final deadline for receipt of applications was extended to 30 June 2021 and applications are now closed.